Rampton's Wild Goose Chase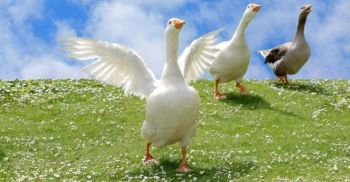 In view of the lock-down our Easter Egg Hunt was cancelled in favour of a… Wild Goose Chase! Follow our fun village trail, solve the clues and exchange for a chocolate prize.
Limited tickets, timed entry - BOOK NOW!
Homemade cakes and refreshments with fresh coffee and teas (Decaf, GF, DF and vegan options)
Grand Spring Raffle with amazing prizes
Cakes and toy stalls
Books from the Book Warren
Bottlebola
Win a fabulous Bee Happy cake
Lucky Dip and other fun games
Pushchair and wheelchair accessible route
Covid safety precautions in place. Please wear a mask on Village Hall grounds. Refund in the event of cancellation.
Limited timed-entry tickets – from 1.00pm to 4.00pm
A Rampton '77 Committee community fundraiser